How to pay via TransferWise

How to complete an order and process payment by TransferWise:
If you pay via TransferWise,we could provide up to 12% discount!
TransferWise uses a smart new approach to allow people to send and receive money safely from abroad without the high fees added by most high-street banks. TransferWise is an online money transfer service, which lets you transfer money up to eight times more cheaply than with a bank. We could understand that if it is the first time to shop from us, you will worry about your order. We promise that we will ship out your items and you will love them.
Select "TransferWise" as your payment of choice during the checkout process and continue following the steps until you reach the order confirmation page and receive your order number. At this point check your email. You should receive an email with the TransferWise Payment details and an explanation of how to make payment.
if you are looking to send money as cheaply as possible then Transferwise is usually going to be cheaper than PayPal. It does not make money off the exchange rate and only charges a small percentage of the overall transfer as its fee.
No setup fees, monthly charges, or fees to send or receive payments. TransferWise is a trusted, secure, reputable, reliable money transfer service.
How does TransferWise calculate the fee to send my money? TransferWise charges a flat $3 for transfers up to $300 to most countries. Fees for transferring amounts over $300 depend on the currency of the recipient. Typically you'll be charged 1% for sending more than $5,000 USD to any other country.
Go to the TransferWise website, type in your details and the recipient's and how much money you want to transfer. You can then either type in your debit card details or send the money to TransferWise from your online bank account.
Below is guideline how to make payment through TransferWise Online!
1) Online with your bank account/credit/debit card by visiting: https://transferwise.com (Free Transfer Fees for first time user) The process is very simple, hassle free and completely secure. Here is a guideline that shows you exactly how it works:
First, Fill in the exact amount of your order, and choose USD as Recipients currency, then click Get started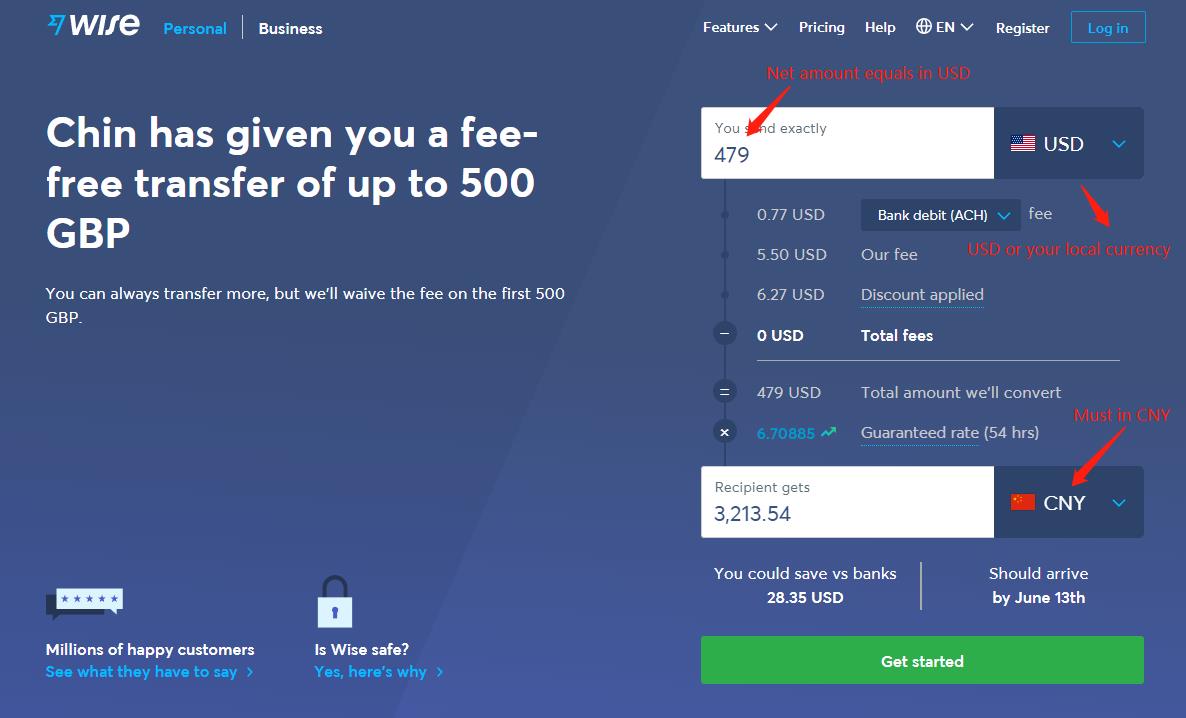 2.Click "continue"
3. Sign up/Log in to your TransferWise account
4. Click "someone else"
5. Fill in the details(in order confirmation email) that we send to your email.
Click on "continue" and choose the payment method that you prefer.
Please make sure the spelling of the receiver's name and details are correct.
Once you paid successfully,
Please note: You are responsible for any fees associated with the TransferWise. We can only ship your order once we receive the grand total above. Thank you


I PAID, WHATS NEXT?

Live Chat, Email or whatsapp your payment information to us.
Receipt (screenshot or pdf)
Done :)
Question about how pay via trasferwise? can check this link or reach us on live chat / reply on this email / WhatsApp: link anytime.
Thanks For Choosing Us!